Background
Promoting women's effective participation in conflict prevention and mediation, as well as addressing their specific needs in peacemaking efforts have been a high priority for the United Nations and Member States since the adoption of Security Council Resolution 1325 (2000) on Women, Peace and Security. However, in spite of many global and regional commitments and initiatives, the number of women and gender experts involved in formal peacemaking processes remains rather low; few peace agreements include gender-relevant provisions or protect women's fundamental rights; the added-value of women's contribution to sustainable peace is not taken into consideration or is underestimated.
Purpose
The initiative for a Mediterranean Women Mediators Network aims at fulfilling the need to increase the number of women involved in peacemaking efforts, and at facilitating the appointment of high level women mediators at local and international level. It intends – in particular – to reduce and fill a networking capacity gap in the Mediterranean area. Stability in the Mediterranean is a prerequisite for human security in the entire region.
In this particular area, with its complex socio-cultural context, women mediators can bring strategic knowledge and contribute to conflict resolution and sustainable peace.
The Mediterranean Women Mediators Network will be a catalyst for mediation efforts in ongoing and potential crises and post-conflict stabilization processes and will foster synergies and coordination among existing initiatives. The Network will also strive for a coherent approach, in close cooperation with the UN and the UNDPA managed roster of mediation experts. Its effectiveness will be bolstered through close cooperation with civil society and in particular in synergy with other stakeholders and similar groups active in this field.
Geographic scope
The Mediterranean Women Mediators Network will consist, in its initial stage, of approximately 40 qualified members from Mediterranean countries. The Network's geographic scope encompasses the UN Member States of the Mediterranean area, including some lacking a direct outlet to the Sea, which nonetheless belong to the Mediterranean history and culture, as well as Permanent Observers States of the UN.
Francesca Caruso
Communication Officer and Mediterranean Expert
Francesca Caruso is the Communication Officer and Mediterranean Expert of the MWMN. She works as a Junior Researcher and Communication Manager for the Istituto Affari Internazionali in Rome. She mainly works on research projects dealing with the EU-MENA region relations and the geopolitical shifts, regional order and domestic transformations in the MENA region. Her main research interests are Political Islam and state-society relations in North Africa. She holds an MA degree in Economy and Institution of Islamic Countries and a BA and MA degrees in History of Arab Philosophy. 
She also contributes to Italian newspapers such as "Il Venerdì" and "l'Espresso", writing reportages and analysis on North Africa and Sub-Saharan Africa. She speaks French, Italian and English fluently, and she has an intermediate level of Arabic.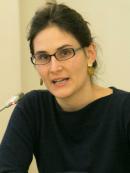 Silvia Colombo
Mediterranean Expert
Silvia Colombo is Head of the Mediterranean & Middle East Programme at IAI. She is an expert on Middle Eastern politics and in this capacity she is working on Euro-Mediterranean cooperation, transatlantic relations in the Mediterranean and domestic and regional politics in the Arab World. Among her research interests there are also the relations between the European Union and the countries of the Gulf Cooperation Council (GCC). She completed a traineeship at the International Secretariat of Amnesty International in London where she worked mainly on Syria and Iraq. She holds a Ph.D. in Comparative Politics from the Scuola Normale Superiore of Pisa (Florence Branch) and a Master's Degree in Near and Middle Eastern Studies from the School of Oriental and African Studies (SOAS) in London. She speaks Arabic fluently and has travelled extensively in the Middle Eastern region.
Irene Fellin
MWMN Project Coordinator (WIIS)
Irene Fellin is the co-founder and President of the Italian antenna of WIIS – Women in International Security and Associate Fellow on gender and security issues at the Istituto Affari Internazionali (IAI). She works mainly on research projects dealing with the implementation of UNSCR 1325 on "Women, Peace and Security" in the Mediterranean area, in the framework of the EU, NATO, OSCE and the United Nations. She worked at the establishment of the Mediterranean Women Mediators Network, and is currently focusing her research on women and mediation. She holds a Master in "Women's Rights and Gender Issues" from the Middle East Technical University (METU) in Ankara. Prior of joining IAI, she worked as Gender Advisor of the Special Representative of NATO Secretary General for "Women, Peace and Security" and as a consultant at UNDP and UNICEF in Ankara.
Giorgia Santamaria
Logistics Project Assistant
Giorgia Santamaria is a Project Assistant at the Instituto Affari Internazionali (IAI) for the Mediterranean Women Mediators' Network Project. Additionally, she is also the Project Assistant for the Non-Proliferation and Disarmament project and provides support to the Education Programme of the Institute. She holds a Bachelor's degree in International Relations and Human Rights and has obtained a Master's degree in International Conflict Studies from King's College London in 2016. Prior to joining IAI, Giorgia worked for Oxfam Italia as a Public Engagement Officer and as Chair Secretariat.