Jeta Krasniqi serves as a project manager at the Kosovo Democratic Institute (KDI) since 2016, focusing on the negotiations between Kosovo and Serbia by working with the parliament to strengthen oversight, transparency and accountability of the process. In addition to inciting internal social and political dialogue through meetings of relevant stakeholders with citizens and civil society, and research analysis. Mrs. Krasniqi is engaged by UN Women as an International Consultant on Prevention and Response to Conflict related sexual violence in Ukraine. At the same time, Mrs. Krasniqi is the deputy chair of the Governmental Commission for the Verification and Recognition of Conflict-related sexual violence victims during the War, representing civil society.
Previously, Mrs. Krasniqi served as Political Advisor to the President of Kosovo, Atifete Jahjaga, where she was engaged in the field of foreign policy, promotion of human rights and gender equality. Mrs. Krasniqi was the Coordinator of the National Council for Survivors of Sexual Violence during the War established by the then President of Kosovo, Atifete Jahjaga. Mrs. Krasniqi has a long-standing commitment to civil society organizations in advancing the role of women in society in Kosovo and Albania. Jeta Krasniqi graduated in International Affairs at the Johns Hopkins University, School of Advanced International Studies (SAIS), and finished her undergraduate studies in International Relations at Eastern Mediterranean University in the Turkish Republic of Northern Cyprus.
Krasniqi is a board member of the Kosovo Women's Network and the Kosovo American Educational Fund (KAEF).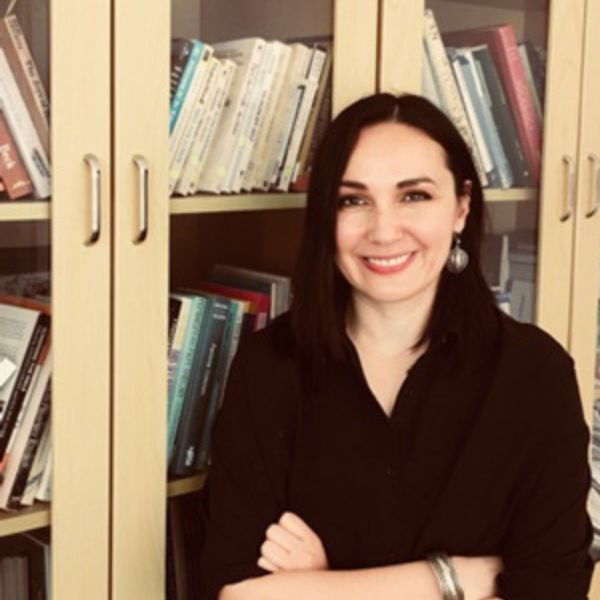 Linda Gusia is a feminist activist and a lecturer at the departments of Sociology at the University of Prishtina. Her research has focused on topics of gender, nationalism, activism, representation, public space, memory, dealing with the past and conflict. As part of her PhD theses she interrogated ambiguities of nationalism and gender by looking both; at the women movement in Kosovo and the sexual violence as a strategy of war centring at the politics of gender representation visually and textually. She holds a PhD from University of Prishtina (2016) and MA from NYU (2003).
Linda was co-curator and researcher in the multimedia art exhibition on women's peaceful resistance in Kosovo and co-founded the University Program for Gender Studies and Research, UP. She was visiting research scholar and fellow at the Gender Research Institute, Dartmouth College, and fellow for five years of the Academic Fellowship Program OSI. She is the principal investigato for several research grants, such as 'Changing the Story' Phase II 'Making of the Museum of Education" AHRC (Global Challenges) project and ReSpace Reanimating Contested Spaces-ReSpace: Designing Participatory Civic Education Changing the Story project (UK-AHRC/GCRF grant) and co-investigator for the 'Changing the Story' large Grant Phase II Kosovo and Ruanda project ReSpace- AHRC (Global Challenges).