Sarah Abdelgelil
Sarah Abdelgelil is a consultant specializing in gender and peacebuilding. Between 2015-2018, she was the Program Officer for the Women, Peace and Security program at the Cairo International Center for Conflict Resolution, Peacekeeping, and Peacebuilding (CCCPA) and has been engaged in mediation support activities in Africa and the Middle East. She also led the design and development of several peer-coaching workshops for African and Arab professionals and community leaders. She is an experienced trainer on conflict mediation, gender mainstreaming in peacebuilding and supporting national reconciliation. She also provided technical support to Track II processes with regards to women's participation and the integration of the women, peace and security agenda in Libya and Syria. She has joined the Mediterranean Women Mediators Network since its foundation to seek to influence current peacemaking and peacebuilding efforts and provide a voice to Mediterranean women during and after peace processes to ensure sustainable peace and development. She holds a master's degree in Global Governance and Diplomacy from the University of Oxford, United Kingdom.
Geographical expertise: North Africa
Topical expertise: gender integration in peacemaking and peacebuilding
Languages: Arabic, English, French and German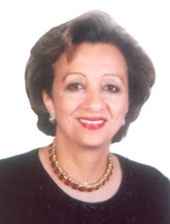 Soad Shalaby
Soad Shalaby is an Egyptian diplomat, who has served her country for 40 years including as ambassador to several countries. She is presently the Director General of the Egyptian African Centre for Women and is serving her second term as a member of the Board of the Tana High Level Forum. She is a founding member of FEMWISE, the MWMN and a member of the Global Alliance of Regional Women Mediator Networks contact group. She was elected Member of the Committee of Elders of the Common Market for Eastern and Southern Africa for a 5-year term. Elected twice, she served for ten years as Member of the Council of the International Institute of Humanitarian Law in Sanremo. From 2007 to 2012, she was the Director of the Cairo International Center for Conflict Resolution, Peacekeeping and Peacebuilding. Throughout her career, she was selected member of the AU Panel of Experts for the Evaluation of the African Standby Force in 2014; member of the expert group who launched the report of the AU MSU; member of the POW team for the Evaluation of the present Kenyan pre Presidential Election; and headed the COMESA team for monitoring the parliamentarian election in the Kingdom of Swaziland. She completed many courses such as the AU Senior Mission Leaders Course and the Clingendael Institute Course on Negotiation and Mediation as a tool for conflict resolution. She published several articles, nationally and internationally on WPS, and is a regular commentator and a guest speaker on African issues on Nile TV international, and many regional and international conferences.
Geographical expertise: Africa
Topical expertise: Sustainable Development, Women Peace and Security
Languages: Arabic, English, French and Spanish