Justine Abi Saad
Justine Abi Saad is the Program  manager  for  Civil  Peace  Program  at the GIZ–ZFD  Lebanon,  where  she works on several projects related to local conflicts and conflicts with refugees from Syria and Palestine. Since 2012, she is a SALTO  youth  Euromed representative. She is also a certified mediator  with  Saint  Joseph University, CPM (Centre Professionel de mediation) and a Peace-building and Conflict Transformation trainer and facilitator. Over the years, she has provided trainings to employees of national and international organizations such as World  Vision,  Search  for  Common  Ground,  OTI, the  Arab  Network  for  Human  Rights  &  Citizenship  Education, UNDP,  UNFPA,  YMCA – Ireland,  The Tunisian Ministry  of  Youth and  EU  Delegation, and Pax Christi – Holland. She is also the developer of several conflict-transformation and minority-rights tools, such as "let's talk":  a  board  game  on  conflict  and  non-violent  communication  where 4 players play real life scenarios negotiating  their  interests and  needs  and  expressing their feelings. The game is currently being re-designed to be converted into a university course.
Justine Abi Saad est la responsable du programme de paix civile auprès du GIZ-ZFD au Liban, où elle travaille sur plusieurs projets liés aux conflits locaux et à ceux liés aux réfugiés syriens et palestiniens. Depuis 2012, elle est représentante de Euromed SALTO pour les jeunes. Elle est également médiatrice certifiée auprès de l'Université Saint-Joseph, CPM (Centre professionnel de médiation) ainsi que formatrice et facilitatrice de la consolidation de la paix et de la transformation des conflits. Au fil des ans, elle a formé des employés appartenant à des organisations nationales et internationales telles que Vision Mondiale, Search for Common Ground, OTI, Réseau Arabe pour les Droits de l'Homme et l'Education à la Citoyenneté, UNDP, UNFPA, YMCA – Irlande, le Ministère tunisien de la Jeunesse et la Délégation de l'UE, et Pax Christi – Hollande. Elle est également à l'origine de la création de plusieurs outils de transformation des conflits et des droits des minorités, tels que «Let's Talk»: un jeu de société sur les conflits et la communication non violente où 4 joueurs disputent des scénarios réels en négociant leurs intérêts et besoins et en exprimant leurs sentiments. Actuellement, ce jeu est en voie de devenir un cours universitaire.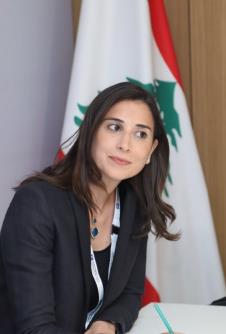 Karma Ekmekji
Karma Ekmekji is the Head of the International Affairs and Relations Unit at the office of the President of the Council of Ministers (PCM) of Lebanon, Saad Hariri, where she serves as an adviser and the focal point for all international dossiers. She operates as the interface between the office of the PCM and the diplomatic community. She is also a professor of International Affairs. Stemming from a strong interest in empowering women in the field of diplomacy, peace-making, mediation and negotiation, Karma founded the Diplowomen concept and has partnered with former Ambassador Tom Fletcher's Foundation for Opportunity to develop the Diplowomen platform, a physical and digital platform which will act as a hub for knowledge sharing, mentoring and networking in this field. Karma is a member of the Mediterranean Women Mediators Network. Karma is the co-founder and member of the Advisory Board of 3QA, a Lebanon based enterprise aimed at creating a sustainable ecosystem for the Levant's Third Sector through introducing an accreditation system. Prior to joining Saad Hariri's office upon his appointment as PCM in 2009, Karma was the national political officer at the United Nations Special Coordinator's office in Lebanon where she briefed the Special Coordinator on all domestic political developments, developing the office's network base with the International Community and Lebanese political parties. She had also served at the UN Secretariat's Department of Political Affairs in New York. Karma was a policy analyst for the International Foundation for Electoral Systems (IFES) where she was tasked with conducting extensive research on electoral systems and reforms and with providing technical assistance to Government agencies. She was present at the Doha Agreement in May 2008 to lobby political parties to introduce reforms to the electoral law. She was selected to take part in the British Government's International Leaders Programme for 2016 – 2017 and was previously "Personnalite d'avenir" – selected by the Quai d'Orsay. In 2012, Karma was named one of 2012's top 99 foreign policy leaders under 33 years of age by the Diplomatic Courier. Karma is a member of the Aspen Global Leadership Network. She earned her Master of Public Administration from the School of International and Public Affairs at Columbia University, where she was a Fulbright Scholar. She is a fourth generation AUBite, and a Penrose Award recipient.