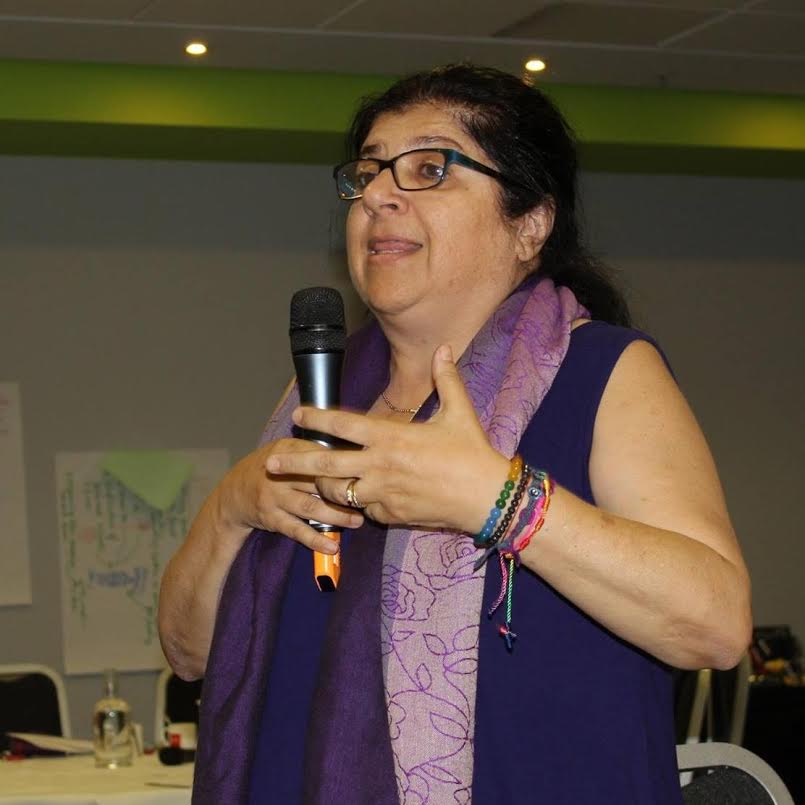 Magda Zenon
Magda Zenon is a peace and human rights activist who brings with her a perspective formed within the contexts of having lived in apartheid South Africa, Greece, and now Cyprus. She is an active member of civil  society with a focus on the integration of a gender perspective in peace processes. She has helped found a number of CSO's, including Hands Across The Divide, the Gender Advisory Team, and the Cyprus Women's Lobby, which is part of the European Women's Lobby.  She is also a member of the MWMN. Magda is a great believer in the power of story-telling and for over 5 years has hosted conversations  with inspiring  women  from  around  the  world  about  peacebuilding,  gender  based  violence  and  women's  participation  in  decision-making  on  an  internet  based  radio  show  called  'kaleid'HER'scope'.
Magda Zenon est une activiste pour la paix et les droits de l'homme, avec une perspective formée par le fait d'avoir vécu sous l'apartheid en Afrique du Sud, en Grèce, et aujourd'hui à Chypre. Elle est un membre actif de la société civile, avec une attention particulière à l'intégration d'une perspective de genre dans les processus de paix. Elle a contribué à la création de plusieurs OSC, notamment Hands Across The Divide, the Gender Advisory Team, and the Cyprus Women's Lobby, qui fait partie du Lobby européen des femmes. Elle est également membre du MWMN. Magda croit beaucoup au pouvoir des histoires racontées et pendant plus de 5 ans elle a organisé sur une chaine radio kalaid'HER'scope des conversations avec des femmes inspirantes du monde entier sur la construction de la paix, la violence sexiste et la participation des femmes aux processus décisionnels.
Maria Hadjipavlou
Maria Hadjipavlou has a Ph.D. in Social and Political Change from Boston University, USA. She was a post-doctoral fellow at Harvard University and a member of the Program in International Conflict Analysis and Resolution at Harvard. As a visiting scholar at Columbia University (USA), in collaboration with Professor Andrea Bartoli, she co-founded the Center on "International Conflict Resolution Program" of which she continues to be an associate. She published widely in edited books and international peer-reviewed academic journals, reports, and conference proceedings in the fields of conflict resolution, Cyprus and gender, gender, peace and security issues, women and migration, Cypriot women and the United Nations Security Council Resolution 1325. She coordinated a number of research projects on women and conflict and peacebuilding. She taught in universities in the USA and after 19 years she has retired as Associate Professor from the Department of Social and Political Sciences of the University of Cyprus in 2013. Her book Women and Change in Cyprus: Feminisms, Gender and Conflict (I.B.Tauris, 2010) has become a reference book on women and Cyprus. She has worked closely with Cynthia Cockburn on her work on Cypriot women and co-authored articles with her. She was the first academic in her research to challenge the bi-communality aspect of Cypriot politics and the analysis from an exclusive ethnic lens, and she spoke of Cyprus as a multi-communal and multicultural island. She also conducts training in conflict resolution and gender awareness She has been a gender trainer for UNFPA and trained women in Kabul, Afghanistan, Tunisia, Greece, Turkey and in Bratislava on gender and conflict resolution. As an activist, she was a founding member and president for ten years of the NGO "the Cyprus Peace Center" (1999-2009); a founding member and current president of the first independent Cypriot Women's NGO, "Hands Across the Divide" (2001) of which Cynthia Cockburn was instrumental for its establishment. She is a co-founder of the "Gender Advisory Team" (GAT) in 2009 working on the implementation and integration of the UNSC Resolution 1325 in the Cypriot negotiations; co-founder of the non-governmental organization, the "Cyprus Academic Dialogue"; co-founder also of the "Cypriots Voice", and many other bicommunal organizations. She has been a member of WINPEACE (Women's Initiative for Peace) Greece-Turkey and Cyprus- for the last twenty years and one of the main trainers of the annual Youth peace education camps. She was appointed in (2015 by the Greek Cypriot leader a member of the Technical Committee on Gender Equality, which advises the peace negotiators on the integration of gender equality provisions in the future peace agreements and the new Federal Constitution. She is co-director of the annual International Summer School on 'Peace and Conflict Studies' organized by the Department of Social and Political Sciences of the University of Cyprus. She has taught for three years at the Bogazici University, during the Summer term, a course on "Conflict Resolution Theory and Practice". She is a member of various international academic associations and is often invited to give talks and present her work in other universities and international organizations. She is currently working on a book on 'Three decades of Conflict resolution in Cyprus: A Critical Assessment'.