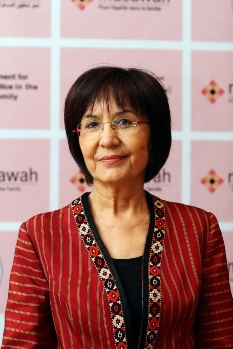 Yakin Ertürk
Yakin Ertürk  is  a  professor  of  sociology, serving  as  faculty  member  at  various  universities. Her  other  professional  experiences  include:  consultancies  for  national  and  international  agencies  on  rural  development  projects;  employment  as  director  of  UN  entities;  international  and  regional  human  rights  monitoring  mandates,  including  special  rapporteur  on  violence  against  women. Most recently  she has held the position of Global  Visiting  Associate at Rutgers  University and  the  Center  for  Women's  Global  Leadership  (CWGL), from September 2017 to April  2018. She is the author of the book "Violence  without  Borders:  Paradigm,  Policy  and  Praxis  Concerning  Violence  against  Women", published originally in Turkish and translated in English in 2016.
Yakin Ertürk est professeur de sociologie et membre du corps professoral de différentes universités. Toutefois, elle compte d'autres expériences professionnelles :  consultante pour des agences nationales et internationales sur des projets de développement rural ; directrice aux Nations Unies; mandats internationaux et régionaux de surveillance des droits de l'homme, notamment rapporteur spécial sur la violence contre les femmes. Plus récemment, elle a occupé le poste de Global Visiting Associate à l'Université Rutgers et au Centre pour le leadership mondial des femmes (CWGL), de septembre 2017 à avril 2018. Elle est l'auteur du livre "Violence sans frontières: Paradigme, politique et Praxis concernant la Violence contre les femmes ", publié à l'origine en turc puis traduit en anglais en 2016.
Zeliha Ünaldı
Zeliha  Ünaldı  is the Gender Specialist at the United Nation Resident Coordinator's Office in Turkey. Besides providing technical and policy support to the UN Country Team, she also works closely with UN Women on UNSCR 1325 on the development of a National Action Plan. A graduate of Gender and  Women's  Studies, she is a member  of  Mediterranean  Women  Mediators'  Network. From  2000, she  has  been  working  as senior advisor and program manager with Governmental, Non-governmental and International  Organizations  in Turkey. Prior to joining the UN, between 1994 and 2000, she has worked as teaching  assistant and  instructor at the Middle East Technical University (Gender  and  women's  studies  graduate  program/Turkey). She was also the team  leader of the Empowerment  of  Women  and  Women's  NGOs  Program, covering the 30  provinces  in  the  least  developed  regions of Turkey.
Zeliha Ünaldı est spécialiste des questions de genre au Bureau du Coordonnateur résident des Nations Unies en Turquie. Outre celui de fournir un soutien technique et politique à l'équipe de pays des Nations Unies, elle travaille également en étroite collaboration avec ONU Femmes sur la résolution 1325 du Conseil de sécurité des Nations Unies sur l'élaboration d'un plan d'action national. Diplômée en Sciences du Genre et de la Femme, elle est membre du Réseau des Femmes Médiatrices pour la région Méditerranée.  A partir de 2000, elle a travaillé comme conseillère principale et gestionnaire de programme auprès d'organisations gouvernementales, non gouvernementales et internationales en Turquie. Avant de rejoindre l'ONU, entre 1994 et 2000, elle a travaillé comme assistante d'enseignement et formatrice à l'Université technique du Moyen-Orient (programme d'études supérieures en genre et études des femmes en Turquie). Elle a également dirigé le programme d'autonomisation des femmes et des ONG féminines, couvrant les 30 provinces des régions les moins développées de la Turquie.