Dilara Gök is one of the founders of Conflictus Training and Consultancy. She has been working in the discrimination, conflict resolution, mediation and peacebuilding fields for almost 7 years with many national and international organizations such as GIZ, UNHCR, RET International and etc. in Turkey. Currently, she has developed training programs, new modules, approaches and practical solutions in the conflict resolution field by engaging with social and disadvantaged groups, as a trainer. Together with this, after the Syrian crisis, she has also been working on social cohesion by handling this issue under the umbrella of conflict resolution tools. In this context, she has developed and applied trainings by working with both local and international organizations in cities which have intense Syrian population. In addition to this, she had worked as a program coordinator of the Young Mediators Program which was implemented under the support of U.S. Embassy in Istanbul. Now, Dilara is one of the founding member of the Turkish Antenna of The MWMN. Also, since 2016, she has been working as victim-offender mediator in Istanbul Courthouse. She is also trained in Women in Conflict 1325 Fellowship Program. https://tr.linkedin.com/in/dilaragok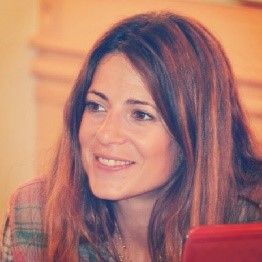 Lea Baroudi is a founding Member and Director of MARCH since 2012, a Lebanese non-profit organization focusing on sectarian conflict resolution, promoting diversity and equality and sustainable peace building, including the Women, Peace and Security agenda.
A certified professional mediator and a member of the Mediterranean Women Mediators Network, Ms. Baroudi has experience in resolving sectarian conflicts and foster peace among marginalized communities and has initiated and worked actively on peace-building projects that use art, culture, women inclusion and economic development to resolve conflict and counter radicalization among youth participating in sectarian violence in marginalized areas of Lebanon, particularly in Tripoli and Beirut.
She has also co-lead several in depth research papers and policy recommendations on fundamental security and human rights issues in Lebanon, such as political violence, radicalization and statelessness. In 2016, she was granted the Reagan-Fascell Fellowship at the National Endowment for Democracy during which she researched ways to develop unconventional methods in peacebuilding and conflict resolution.
In January 2019, she spoke at the UN Security Council Arria Formula meeting titled "What's next for Women, Peace and Security in Middle East and North Africa: The Potential of National Action Plans". She was recently awarded an MBE (Member of the Most Excellent Order of the British Empire) by Her Majesty the Queen for services to peacebuilding and civic rights in Lebanon.