Giulia Massotti is diplomat in training at the Ministry of Foreign Affairs and International Cooperation. From 2014 to 2019, she worked at the presidency of the Council of Ministers of Italy, first in the cabinet of the Secretary of State for European affairs and subsequently in the taskforce responsible for EU infringement procedures. Previously, she worked as project manager for a European Brussels based foundation funded by the European Parliament. She holds a MA in European Studies from the College of Europe, as well as a MA in international relations and a BA in political science from the RomaTre University. She did an Erasmus at the Université Libre de Bruxelles and was a Schuman Trainee at the European Parliament. During her professional career, she specialized in the field of organized crime and anti-corruption and holds an MA on the subject from the University of Pisa. Over the years, she has actively participated in various organizations, such as the Aspen Institute Italia, the European Media Initiative, the European Movement, and the Italian association "Pubblici Cittadini". Since its foundation in 2017, she is a member of the MWMN, for her theoretical background in the field of gender and mediation. She attended the first edition of the training on Mediation and conflict resolution from a gender perspective organized by the Spanish and Moroccan Ministries of foreign affairs in 2014 and then participated in later editions organized by CITpax. As a member of the MWMN, she has also benefitted from trainings organized by the network. Finally she has drafted various research projects on WPS.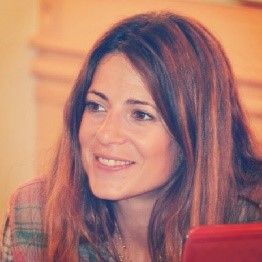 Lea Baroudi is a founding Member and Director of MARCH since 2012, a Lebanese non-profit organization focusing on sectarian conflict resolution, promoting diversity and equality and sustainable peace building, including the Women, Peace and Security agenda.
A certified professional mediator and a member of the Mediterranean Women Mediators Network, Ms. Baroudi has experience in resolving sectarian conflicts and foster peace among marginalized communities and has initiated and worked actively on peace-building projects that use art, culture, women inclusion and economic development to resolve conflict and counter radicalization among youth participating in sectarian violence in marginalized areas of Lebanon, particularly in Tripoli and Beirut.
She has also co-lead several in depth research papers and policy recommendations on fundamental security and human rights issues in Lebanon, such as political violence, radicalization and statelessness. In 2016, she was granted the Reagan-Fascell Fellowship at the National Endowment for Democracy during which she researched ways to develop unconventional methods in peacebuilding and conflict resolution.
In January 2019, she spoke at the UN Security Council Arria Formula meeting titled "What's next for Women, Peace and Security in Middle East and North Africa: The Potential of National Action Plans". She was recently awarded an MBE (Member of the Most Excellent Order of the British Empire) by Her Majesty the Queen for services to peacebuilding and civic rights in Lebanon.